Demand to fill cybersecurity jobs booming
As the number and sophistication of cyberattacks increase, so does the demand for people who can prevent such digital incursions.
More than 209,000 cybersecurity jobs in the U.S. are unfilled, and postings are up 74 percent over the past five years, according to a Peninsula Press analysis of numbers from the Bureau of Labor Statistics. The demand for positions like information security professionals is expected to grow by 53 percent through 2018."The number of jobs in information security is going to grow tenfold in the next 10 years," said Virginia Lehmkuhl-Dakhwe, director of the Jay Pinson STEM Education Center at San Jose State University, which mentors youth to enter and excel in STEM (science, technology, engineering and math) careers. "We have to do much more if we want to meet that demand, at the university level as well as K-12."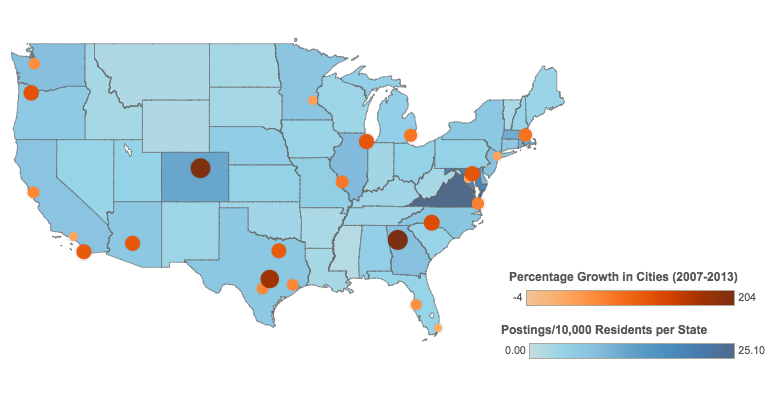 But educators like Lehmkuhl-Dakhwe are finding it difficult to teach students about cybersecurity fast enough to keep pace. Demand for cybersecurity professionals over the past five years grew 3.5 times faster than demand for other IT jobs and about 12 times faster than for all other jobs, according to a March 2014 report by Burning Glass Technologies in Boston, which develops technologies designed to match people with jobs.
This growing demand is leading to better salaries for information security professionals compared to other IT jobs. According to the same report, cybersecurity jobs on average offer a premium of about $12,000 over the the average for all computer jobs —  the advertised salary for cybersecurity jobs in 2012 was $100,733 versus $89,205 for all computer jobs, says the same report.Organizations across industries like finance, retail and education are looking for skilled professionals to design and implement comprehensive information security that covers a wide range of business security priorities.But there is concern that there are not enough people in the pipeline to meet this demand. Among the issues: not enough young people interested in the field and not enough women.The numbers back up the worries. Most of the jobs in tech and cybersecurity are held by men. And a 2013 survey by defense tech company Raytheon Co. found that fewer than a fourth of millennials are interested in cybersecurity and related careers.